Up until now, Pinterest was not your run-of-the-mill social media platform. It was a visual search engine. Google's smaller, often overlooked cousin, if you want.
Well, things are about to change…
Disclosure: Some of these links are affiliate links. This means when you purchase something through those links, I may receive a small commission at no extra cost to you. It's the cool online-kid way of tipping me – with someone else's money. Thanks a ton!
Pinterest Introduces Communities
What are Pinterest communities? Over the past weeks, Pinterest has silently started to roll out this new feature.
If you can't find that new feature on your account yet, you need to join at least one Pinterest community to get access to that feature and be able to search for other communities or create your own.
So how can you join a community if you don't have the feature? *going round in circles* o_O
You'll have to rely on someone who already has the new feature to graciously invite you to join one of their Pinterest communities.
Once you get the link, you open it in the Pinterest app – this is important, as the link won't open outside of Pinterest.
Within an hour of joining your first Pinterest community, you should have access to the whole feature.
This is what you'll see:
The search feature doesn't seem to work yet, but you'll see a bunch of recommended communities and you'll have the option to create a new one.
From what I've read, the number of communities you can create might be limited to two per account, so choose wisely.
What Are Pinterest Communities Good For?
As far as I can tell, they are very similar to Facebook groups. You can share Pins or photos, as well as like and comment on shared content.
Once you create your community, everyone can join. You don't have to approve members.
This also means: Everyone can join and post links. I wonder how well that will go…
Pinterest Communities – Are You In?
You might wanna be quick deciding whether or not you want in on this new feature.
Because: Pinterest communities all need different names. Yes, that's right.
Unlike the millions of "Blogging" boards and group boards, there will only be ONE "blogging" community.
So if you want to create a Pinterest community for a potentially profitable topic or with your exact brand name, you better be quick!
Don't forget Pinterest is still a search engine.
Therefore you wanna make sure you use SEO best practices when you name and describe your community: Use relevant keywords in order for people to find your new Pinterest community.
Don't have the new feature but desperately want in? No need to get your knickers in a twist – I've got you covered. 🙂
I created two communities you can join to get access to the Pinterest communities feature (remember to open the link inside the Pinterest app):
Pinterest Communities To Join:
Blogging For Profit
The Solopreneur Safety Net
Are Pinterest Communities Going To Replace Group Boards?
Good question! Pinterest announced in an interview in May this year: "Something you'll see over time is group boards will become a less effective strategy for gaining traffic."
Initially, Pinterest group boards where meant to be a place to collaborate on certain subjects, rather than dump one's Pins in order to increase one's reach and traffic.
I guess Pinterest communities are the second attempt to do just that.
I've definitely seen a drastic plunge in Pinterest views over the last months – without doing anything differently – and I think relying too much on group boards might have been one of the reasons.
Pretty sure they changed the algorithm to put less weight on group boards.
At the moment I'm experimenting with a new strategy to see if that's true. I'll keep you posted!
Are Pinterest Communities Worth Your Time?
That depends…
Let's look at it like this: Since Pinterest entered the stage in 2010, it has become a roaring success.
During its infancy, it might have been a platform for DIY-enthusiasts and recipe-sharing-stay-at-home-mums (no disrespect!!).
Those times have long passed though.
With currently about 250 million users, and a market value of $13 billion to $15 billion, Pinterest has grown into a platform, no wise marketer can ignore anymore.
That incredible number of users helped diversify the niches that are represented on this platform.
Nowadays, you'll find everything on every topic on Pinterest.
Moreover, the user demographics are changing dramatically: While Pinterest used to be a predominantly female preserve, in 2016 40% of new signups were male.
I'd assume this percentage has grown even more.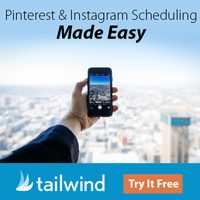 The cherry on top: Pinterest users tend to be well educated and wealthy. According to a 2016 study, 35% of Pinterest users earned more $75,000 or more per year.
It's a marketer's dream come true.
As if that wasn't enough to make marketers cry tears of joy, Pinterest now added communities.
A potentially great way for brands to increase engagement, network and further their reach.
So if you're in marketing, this could be huge for you.
If you're not, it might just be yet another social media platform to communicate and network.
It's gonna be interesting to see how this plays out – if this grows big enough to replace Facebooks groups, I'm all in! 🙂
Related reading:
HOW TO SET UP AND OPTIMISE YOUR PINTEREST ACCOUNT
HOW TO REAP ALL THE BENEFITS OF USING TAILWIND FOR PINTEREST
10 PINTEREST MYTHS BUSTED – NEW PINTEREST BEST PRACTICES TO FOLLOW
Conclusion
Pinterest has kept us on our toes this year, hasn't it?
So many changes, it's hard to keep up…
Some innovations went as quickly as they came – anyone remember the "Concentrate on the first 5 Pins a day"- rule?
I have to say I'm a bit skeptical about the new Pinterest communities.
Don't get me wrong. Not that I  think collaboration, conversation, and networking aren't great.
It just seems to me that under the cover of becoming more social, what Pinterest is ACTUALLY doing is growing their market value even further by increasing customer engagement, thus paving the way for pushing paid ads ("promoted pins"):
The more engagement, the higher the marketing potential. The higher the marketing potential, the higher the likelihood of big brands jumping in to buy promoted Pins…
If that was true and Pinterest has chosen to go down the same route that Facebook has, everyone who's not using promoted pins will see a more or less drastic decrease in organic reach.
I can't decide whether this was a genius move on Pinterest's part to bite off a big piece of Facebook's market and make more money, or whether this change in direction will dilute the essence of Pinterest and ultimately result in users leaving Pinterest like rats leaving a sinking ship. Time will tell, I guess…
What does your gut feeling say? Are you excited about this new feature or do you think it's unnecessary? Whichever way you're leaning – I'd love to hear your thoughts on this in the comments!
Happy experimenting!
Yours,
PS: If you found this post helpful, please don't forget to share it with like-minded people. 🙂