Use Pinterest to grow your reach and drive free traffic to your blog or business like a pro! Learn how to get started and optimise your Pinterest account.


Pinterest for Business – Part I | How to Set up and Optimise Your Pinterest Account
Welcome to my Pinterest for Business series! 🙂 Today's we'll get you started and set up your Pinterest account like a pro! Once you are done with this part, feel free to check out the next posts in this series:
Part two explains the best practices to use for maximum exposure of your content through Pinterest. Part three of the series is all about pinning the smart way by using Tailwind for Pinterest.

Disclosure: This post contains affiliate links. This means when you purchase something through those links, I may receive a small commission at no extra cost to you. All opinions expressed here are my own and I only recommend products and services that I personally love! 



What's so Special About Pinterest?
Why would you want to use Pinterest to drive traffic to your website? You've probably heard that Pinterest is the holy grail for internet marketers – here is why:
Pinterest now has more than 175 million monthly active users worldwide. Pinteresting, isn't it?! (Sorry, I can't resist a pun. Probably because I'm not an English native – somehow that makes puns so much more hilarious and irresistible.) 😉
Anywho, it gets even better! Because Pinterest users are very intentional. They use Pinterest to find and store inspiration, yes, but they are also on the lookout to actually buy things – and use Pinterest to help them choose.
87% of Pinners have purchased a product because of Pinterest and 72% of Pinners use Pinterest to decide what to buy offline. In other words, Pinterest offers you a huge worldwide market of potential customers (more stats and fun facts about Pinterest).
Pinterest is not like other social media. It's a visual search engine and therefore shares more similarities with Google than with let's say Facebook (Update 09/2018: Pinterest goes social!).
For you as an online entrepreneur, this is great in many ways:
You can use SEO (=search engine optimisation) strategies to optimise your content and increase the chance of it being seen by the right people.
The lifespan of your Pin is so much longer than on other platforms! Your content will stay searchable and you could see engagement with your Pins months or even years (!) after you posted them.
You don't have to spend all your time commenting, liking and sharing other people's content BEFORE you see results. Also, the number of your followers is not as important as on other social media platforms.
Pinterest traffic is free. You can buy ads to increase your traffic even more, but you don't need to to get good results (as you can see below). Pinterest is by far my number one traffic source.

Convinced? 😉 Then let's get you started! I'm sure you won't regret giving this powerful platform a try!


Creating Your Pinterest Account
If you are going to use Pinterest for your business, it makes sense to get a Pinterest business account straight away. They are free, just like the personal ones, but offer a whole lot of additional benefits, like analytics to track your progress.
What if you already have a personal Pinterest account? While you can convert your personal account into a business account, I wouldn't recommend it. Chances are, you pinned everything from cute cats (Aww!) and funny autocorrect conversations (hilarious!) to knitting patterns for winter socks. Am I right? 😉
These Pins won't do your business profile much good, because they are not likely to attract your target audience. Creating a new business profile and starting from scratch makes more sense in these cases.
Don't worry about losing your followers! You'll attract new ones. And this time hopefully ones that are interested in YOUR business instead of cat pics. If you aren't entirely sure who your target audience is, check out this post.
To create your Pinterest business account, go to Pinterest for Business, scroll down the page until you see the sign-up button:


Now all you have to do is fill in your details, read and accept their Business Terms of Service as well as their Privacy Policy and click "Create Account". Easy-peasy!
Next, you'll have to add some personality to your profile! Customise your Pinterest account to reflect your business in order to attract your ideal audience and soon people will find and follow you.


Optimising Your Pinterest Account
The first thing you wanna do after creating your account is to customise it. Bring on the smiley portrait pics! 😉
When you open your Pinterest account, you'll see a few icons in the upper right corner. Click on the first one on right to access your Pinterest account settings.
By clicking on "Settings", you can adjust your business name, upload your profile picture, write a short bio, add your location and change your featured boards (= the ones that will be shown at the top of your profile).
Go through ALL these steps and really take the time to fill in the gaps. Think of this as your business card. If you want to be taken seriously, make it look professional.


Use Relevant Keywords
While you are filling in those details, remember to use relevant keywords wherever possible. That's how your profile will be found. So if you are a coach, add "coach" to your business name as well as to your bio.
I think it's best to concentrate on the most relevant keywords for your niche here, instead of trying to cram every distantly-related keyword in there. Also, using those keywords in sentences rather than just stuffing them in, is always a good thing.
The same goes for your board and pin descriptions: Use keywords you want to be found for, but use them organically. Remember, in the end, you are writing for people, not for algorithms.


Create Boards With Your Ideal Customer in Mind
Create at least 10 boards that your ideal customer is interested in. You can start with one board for your blog/online business where you only post your own content.
Even though Pinterest doesn't require you to pin someone else's content, I think it's a good idea to create more boards around your topic and share third-party content generously.
Why? Because it helps you create a well-rounded profile. You can't possibly write about everything your ideal customer is interested in. Besides, you want others to share your content, too, right?
So to me, it only seems fair to share someone else's Pins as well.


Naming Your Boards
Oh, and name your boards wisely, if you want them to be found!
Don't call them "This & that" and wonder why nobody is looking for them. Pinterest is a search engine.
Therefore your board name should be as specific as possible and include relevant keywords. Otherwise, Pinterest won't know who to show them to. If you blog about parenting, for example, a good board title could be "Parenting tips for stay-at-home mums".
I think this formula of specific keywords (parenting tips) + target audience (stay-at-home mums) works really well.
Once you named your new board, don't forget to write a useful board description and choose a category for your board. Moreover, you can use hashtags in your board and pin descriptions to help more people find your content.


Claim Your Website
By claiming your website Pinterest verifies that you indeed own the website you link to. You'll need to insert some HTML code into your website to proof you have access to the site you are claiming.
The big advantage of claiming your website is that you'll get access to website analytics to track your progress and see what people are pinning from your website.
Moreover, your profile picture will be added to all the Pins from your website.
Thus, your Pins will be easier to identify for your followers and it's better for creating a brand that stands out – it makes your account more human and relatable.


Enable Rich Pins
What the heck are Rich Pins, you might ask. Basically, Rich Pins add extra information to your standard Pins.
For example, they can display real-time pricing or stock availability for a product pin.
Thus they make sure your content stays up to date.
Apart from Product Pins, there are also Article Pins, App Install Pins, and Recipe Pins that you can enable, depending on the type of content you post.
If you blog about food and you post a lot of recipes, you might want to consider NOT to enable Rich Pins though.
Why is that? Recipe Pins will show all the ingredients next to your Pin image. Some fear that this will stop people from clicking through to your website.
From my personal experience, there is definitely some truth to that… Especially for simple recipes like smoothies or salads, for which you don't really need instructions.
In all the other cases, I think enabling Rich Pins does more good than harm. Give it a go and see how it works for your business!



Conclusions
In case you just skimmed through the text, here are the main takeaway lessons:
1. If you are using Pinterest for your business, create a business account instead of a personal one.
2. Pinterest is a search engine – treat it like one. This means always being as relevant and specific as possible.
3. Create content with your ideal audience in mind. Cater for their interests, offer solutions to their problems, inspire them.
4. Claim your website.
5. Consider enabling Rich Pins.
Now that you are all set and created a professional Pinterest account, you are good to go and start pinning to drive traffic to your website.
That's where the fun starts. 😉
Learn more about Pinterest best practices in part II of this series and see how you can leverage the power of Tailwind to grow your business even faster in part III.


Comment, Share, Subscribe
If you have more questions or things to add, I'd love to hear them in the comments below! Also, don't forget to pin and share this post – sharing is caring! 😉
By the way, by hopping on my mailing list, you make sure not to miss out on the next super helpful blog post and extra perks for subscribers only.
I know you love a good bribe. LOL
Happy experimenting!
Yours,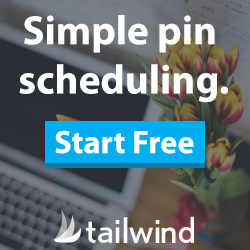 Related reading:
HOW TO REAP ALL THE BENEFITS OF USING TAILWIND FOR PINTEREST
10 PINTEREST MYTHS BUSTED – NEW PINTEREST BEST PRACTICES TO FOLLOW
XI: THE NUMBER 1 MARKETING & PROMOTION STRATEGY TO BOOST YOUR BLOG
PINTEREST GOES SOCIAL – DISCOVER THE NEW COMMUNITIES FEATURE